This outfit consists of classic Lara wardrobe staples - a tiny pair of shorts and a tight t-shirt!

The t-shirt is short sleeved, very low cut, cropped and shaped at the bottom edge, with a white/silver/grey top underneath. It's a brown/tan colour.

The shorts are a slightly darker brown colour, low on the hips and cut short, almost like a pair of big pants :)

Lara's usual hiking boots are back, with 2 straps and worn with thick white socks peeking over the top, reaching about mid-calf level.

Lara's backpack makes another appearance, in black leather - note the diagonal strap on the back.

The wide utility belt holds Lara's grappling wire, binoculars, grenades and holsters, and is black leather with a rectangle silver buckle.
The holsters are attached with metal links, the kind found on climbing ropes and similar, but smaller.

Short black finger-less gloves complete the look.

There are several variations of this outfit that can be unlocked during the game...



Pink Version



Purple/blue top and shorts with silver edges, no top underneath this time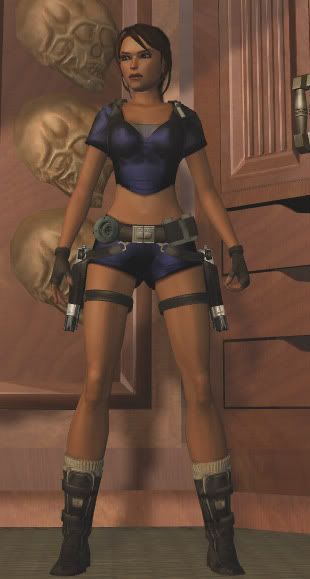 Black/blue mottled/camouflage top and shorts



Union Jack patterned top and navy shorts




Great high resolution promo shots - click for the full versions