This dress starts off with no splits at the side, but due to events in the game,
Lara rips it for ease of movement and access to her weapons.

The dress is actually black, but the light in the screenshot above makes it look slightly navy.

It is a halterneck style with a plunging neckline that revels Lara's "assets" well!

It is a snug fitting backless dress that ends just above her knees.

At the start of the scene Lara wears black open-toe kitten-heeled shoes, but she goes barefoot once the violence breaks out.

She also has a small black shoulder bag, presumably where she keeps her utility belt before she dons it.

For once Lara actually wears jewelry - a simple black beaded necklace and bracelet.

Also she sports pale brown nail polish if you look carefully - usually she has natural nails.



Lara before the impromptu customising of her dress, and still in her shoes.



A closeup reveals the strap of Lara's bag and ample cleavage.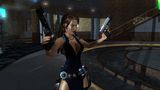 Lara wearing the red variation of this dress.




A great high resolution promo shot, with a great view of Lara lacy pants - click for the full version